Image: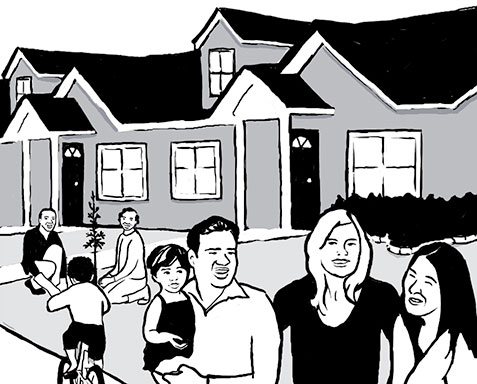 Intro:
IT'S TIME for everyone to have an affordable, safe place to live.
Why It Matters:
Communities are strong when everyone has a place to live.
Housing is a basic need that has an impact on quality of life and affects people's ability to secure employment, be involved in their community, and build better lives.
All other needs depend on having safe and affordable housing.
We Believe That:
Ottawa residents shouldn't have to choose between paying for housing and buying food and medicine.
Children deserve to have a stable home, giving them the opportunity to succeed in school and life.
Every Ottawa resident deserves to have a safe, decent place to live so that they can build better lives.
But the Reality Is Troubling:
In Ottawa Over 10,000 households are on the social housing waiting list, with a wait time up to 5 years.
The average length of stay in an Ottawa shelter is 77 days in 2014.
Individuals with mental health challenges are more likely to have inadequate housing or risk homelessness, meanwhile poor mental health can be worsened by not having adequate housing.
Questions to Ask:
What will you do to increase the supply of affordable rental housing across the country?
Moving forward, will you commit to retain current levels of annual investment - $1.7 billion - in order to sustain and create new affordable housing?
Will you support a National Housing Strategy with federal funding that recognizes the right to adequate housing?