Journalists are people like us. They live and work in our communities. Media cover issues affecting Ottawa residents. Journalists are Ottawa residents too. Many media outlets (e.g. Ottawa Sun, CBC, Le Droit, Metro Ottawa) send a journalist to cover each City of Ottawa committee, commission and council meeting. Journalists also do stories about community meetings and events. They want to know what residents care about.
When a journalist reports on an issue, their story will be read, heard and/or viewed by possibly hundreds of thousands of Ottawa residents. A media story can let people know about an issue and encourage more people to take action and to ask for change.
View journalists as people who have a lot in common with us. Journalists need us to help them tell their stories.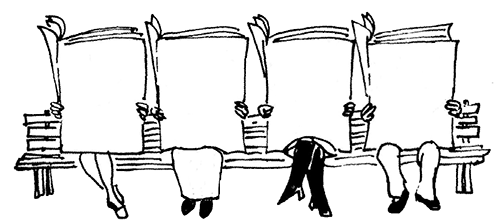 How does a media interview happen?
A media interview can happen different ways. You could get in touch with the media, or the media can get in touch with you. The media might also get in touch with someone else, like a local agency that thinks that you would be a good person to talk about an issue.
Contacting media with your story idea
If you call a journalist to tell your story idea, then you are "pitching" to the journalist. There are journalists that cover local issues. Some journalists specialize in politics, including city hall. Check the newspaper or on-line to see if a journalist has previously covered the issue that you want to talk about. There are many ways to contact journalists.
Here are a few ideas:
Phone the media outlet's newsroom and ask to speak to the journalist.
If you are at City Hall during a committee, commission or council meeting, you can follow the journalists who are covering the event. Respond to their tweets with your thoughts and with new information that you can add to the conversation. Speak to the media after a committee, commission or council meeting, to share your personal opinion.
Send a letter to the editor in response to a story from their newspaper.
When you a call a journalist with your story idea, there is key information they need to know. We call these The Five Ws: who, what, when, where and why. Write down answers to the following questions before contacting a journalist.
Who:

Who is affected by what is happening?
Who is in charge of the changes?
Who is the expert?
Who is available for interview?

What:

What is happening?
What makes this important to Ottawa residents?
What are you asking for?

When:

When is this happening? Time and date?

Where:
Why:

Why does this issue matter to Ottawa residents? How does it affect Ottawa residents?
What will be interesting to media?
Some times are better than others to contact a journalist with a story idea, or to share your opinion about an issue. Good times include:
When an issue is new or something new happens with the issue. For example, a funding cut, a new schedule announcement, a waiting list gets longer.
When an issue is being discussed at a City of Ottawa committee, commission or council meeting.
When the same issue is happening in another Canadian city. For example, when another city gets a low-income transit pass.
When there is a new report about the issue. For example, a new fare structure report or a report about the feasibility of a low-income transit pass.
When there is an approaching deadline. For example, if a program's funding is about to run out and the program will have to close or cutback services.
When there is a demonstration about the issue.
When there is a story in the paper. You can write a letter to the editor with your response to the story.
If you are asked to give an interview
You may be asked to give an interview. There are questions you can ask before agreeing to give an interview.
These questions include:
What is the name of the reporter?
Which media outlet is she or he with? For example, CBC television, CBC radio, Ottawa Sun, CTV television, 1310 radio, etc.
What date and time is the interview?
How long is the interview? For example, is the interview three minutes or 30 minutes?
Will the interview be live or be taped to be broadcast later?
Will anyone else be interviewed at the same time as me?
What exactly do they want to talk about? What questions will they ask me?