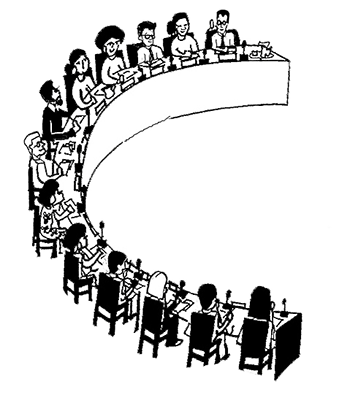 A deputation is a written or verbal presentation that residents, community groups or any interested party can present to City Council's Standing Committees or Boards. Presentations are five minutes and must be about a topic that is on the agenda. The agenda and staff reports for each meeting are posted the Friday before the date of the Committee or Board meeting.
Why Does the City do This?
Deputations allow Council members to listen to the people who elected them. In this way, city governments demonstrate they are open and accessible to the views of its citizens.
Why Make a Deputation?
Making a deputation is a great way to educate members of City Council about your issue and ask for change. Media coverage can help members of council feel pressure to make a positive change. You get your point of view on public record. And, it's one way of exercising your rights as a citizen and assuming responsibility for creating a city for all. As a resident, you can help to ensure that the diverse voices in our city are heard.
Arranging to Present
Check the City website to know when the committee to whom you want to present is scheduled. Click on "City Hall", and then "Your City Government" and "Council, committee and board agendas and minutes.
Contact a Committee Coordinator prior to the meeting to register for your deputation.
You can also register by calling City of Ottawa general information at 613-580-2424. They will put you in touch with the coordinator of a specific Standing Committee.
Find Out When to Present the Deputation:
Deputations are usually heard at the beginning of each agenda item of the committee meeting. The order of items on the agenda may shift, so be prepared to wait. Some meetings are long.
You can also ask a Committee Coordinator when to present the deputation.
Get an estimated time for when you will be presenting your deputation. You may do this by asking the Committee Coordinator. Or, check the City website where Standing Committee agendas
are posted on the Friday preceding the committee meeting. You can estimate when you may speak based on your order on the agenda.
It is best to make arrangements at home or work so you can be there longer, if possible. Who will look after the kids? If you are working with an organization, ask them if they can help
with childcare costs. There is nothing worse than having to leave to meet the kids at the bus before you've had a chance to present.
Arrange for someone to read your statement on your behalf in case you need to leave before your turn.
You may want to bring a lunch or money to buy one just in case you are still there when the Committee breaks for lunch.
What if I Can't Present in Person?
Another person can present in your place, or you can submit a written deputation that will be included in the record of the meeting.