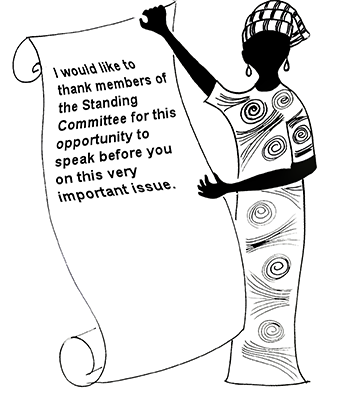 Be sure to double-space your text, use a clear and easy-to-read font, and number your pages.
Date and Committee Name (for tracking purposes)
Address the Committee and thank the comm ittee for allowing you to come before them.

For example: "Good afternoon madam chair. Before I start I would like to thank you for this opportunity to address the Committee" OR
"I would like to thank members of the Standing Committee for this opportunity to speak before you on this very important issue"

Introduce yourself and your organization (if applicable) – keep it brief.
Clearly state the issue you are addressing.
Tell them why it is important.
Give examples of the problem and/or solution.
Tell them what you want them to do and when.
Tell them again, why it is important.
Thank them and tell them you will be watching and waiting!
And have fun!
Adapted from materials produced by the Ontario Coalition for Better Childcare